First Impressions Count – Top Eight Reasons Why Corporations Use Chauffeured Transportation Companies
Posted On: 12/07/2018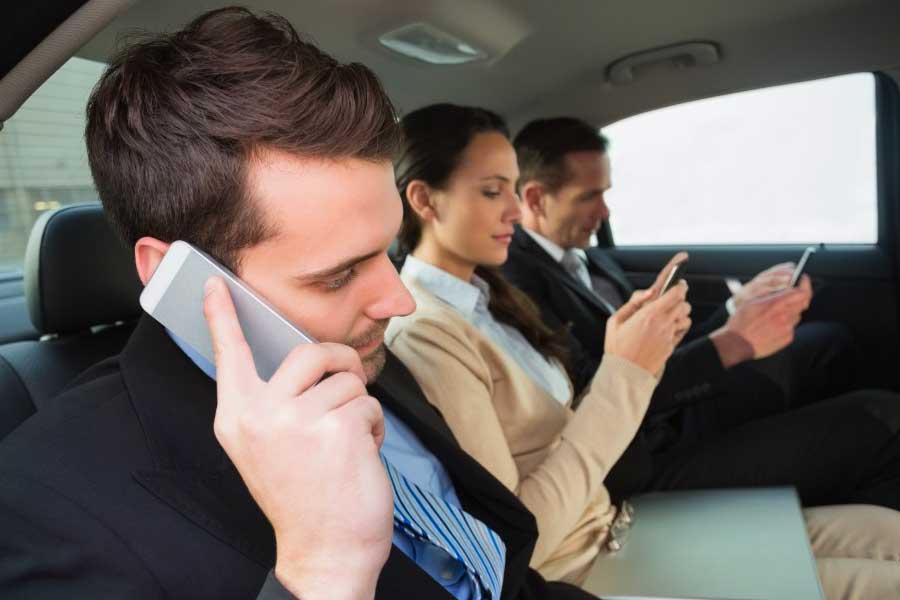 As a successful entrepreneur, you know the rules. You have exactly seven seconds to make a first impression — fewer to make a mistake — and you can never make a second first impression. We understand that when you choose All Points Limousine, you are entrusting our experts and specialists with your entire venture's success. We know, too, that the appearance of sleek, gleaming luxury vehicle complete with professional chauffer and all the finishing touches is like a whistle signaling "game on." We have the customized resources, experience and expertise to make every event your company undertakes a seemingly effortless triumph.
Corporate Road Shows
With multimillion-dollar deals at stake, potential investors painstakingly evaluate risks, examining reasons not to invest. In listing reasons why potential investors backed away from a prospect, Entrepreneur Magazine stressed that the top five relied on first impressions. The unsuccessful venture teams had all failed to provide:
– Evidence of success.
– A sense of trust.
– Experienced individuals able to work together productively.
– A sense of openness rather than secretiveness.
– A plan or budget.
A fleet of spacious luxury vehicles provides opportunities for team members to stay on target and keep their game sharp. It conveys an aura of success and planning and allows you to offer appropriate amenities to potential investors without the disconnected energy that traveling in separate vehicles can cause. It also establishes an openness and willingness to return on an investment.
Sales Trips
According to Incentive magazine's website, sales trips are an incredible motivator for corporate performance. However, not just any experience will serve. "It's about what will make the trip feel like a personal experience versus one that's one size fits all." In addition, Incentive listed Florida as the number one destination, with South Florida and the Miami area outranking all others.
Are you planning on treating some valued high performers to a weekend at LaPlaya Beach and Golf Resort or a Royal Caribbean International 5-day cruise with a Miami port of call? With a fleet ranging from luxury limos complete with flat-screen TV to spacious executive vans and buses, our team knows the area and is prepared to provide you or your team with personalized transportation services that say, "You make a difference."
Company-Sponsored Speakers
You've managed to find and schedule a charismatic, knowledgeable industry guru whom you're counting on to work wonders for your organization. You need optimal performance and goodwill. Chances are, however, your expert is flying in from the West Coast or some other entrepreneurial hub. How many times have speakers lost their audiences simply because they lost their way? South Florida's traffic is unpredictable at best. Our drivers provide professional assistance to ensure that speakers:
– Can relax and gather their thoughts.
– Arrive on time.
– Deliver a dynamic presentation.
– Remain on schedule for their next event.
– Want to present for you again.
Airport Arrivals and Departures
South Florida's Miami International, Palm Beach International, Fort Lauderdale—Hollywood International and Boca Raton Airports are busy places. For departures, long-term airport parking runs about $4 a day, with valet parking starting closer to $20 and you still have the hassle of lines, finding spaces, worrying about car damage or theft and all the traffic complications that plague the busy south Florida airports.
For arrivals, car rentals are fraught with unnecessary à la carte fees, paperwork and other requirements. Vehicle choices can be less than desirable, and don't forget the luggage, equipment and lost luggage. Coming or going, nothing is worse than waiting on a taxi service that – surprise – can't handle the size or quantity of bags.
Whether you're departing or arriving, All Points offers curbside or meet-and-greet services tailored to your individual travel requirements. Our chauffeurs know airport etiquette and routines. In a comfortable, roomy limo, SUV or van, you can concentrate on making your trip a success, confident that experienced experts are handling all the hassles for you. You will be on time, fresh to focus on your goals.
Photo Shoots
Corporate photo shoots are increasingly a vital element of marketing culture. Quality compositions go beyond traditional head shots taken at a mahogany desk back dropped with skyline. Cutting-edge companies want sharp, clean team images that convey cool, modern competence and make their brand more appealing to customers.
Time is money to any business. Quality, high-end shoots in the Miami area often start at $3, 000. When members of a team arrive flustered or disheveled, late or not at all, both parties suffer financial loss. If deadlines are part of the mix, delays, rescheduling conflicts and rush fees can bloat budgets.
All too often, planning, traffic and vehicle issues are at fault. However, when a limo service is scheduled in advance and arrives right on time, people stop what they're doing, get in and arrive on time together, collected and ready to interact with the camera and one another.
Off-Site Meetings and Events
On EffectiveMeetings.com, the first two commandments of business meetings are:
– Thou shalt always know what time it is.
– Thou shalt not forget the main reason for meetings.
We know that every person attending a meeting or event has a host of other commitments and appointments; being careless with other people's time is the ultimate gesture of disrespect. We also understand that meeting as a group allows people to achieve milestones that they might never accomplish alone. We can help to ensure that you and your team will never miss another crucial decision or landmark event AND that you'll arrive and depart in style.
Hosting a Night Out
Whether you're planning an elegant dining experience at the Biltmore Hotel's Palme d'Or or an entertaining escape at the Aventura Arts & Cultural Center, treating clients to a luxurious, worry-free evening is not only well received but also increasingly an expected part of building successful professional relationships.
With all arrangements made in advance, an evening of dinner, theater and late-night drinks can become seamless, leaving you to focus on your guests. Our limos' spacious accommodations and full amenities leave plenty of room for significant partners and guarantee never a dull moment. Best of all, issues regarding designated drivers or separated parties will never mar the evening. All you and your guests will have to do is enjoy each other's company.
Sports Events and Concerts
No one turns down an invitation to a Miami Dolphins game at Sun Life Stadium, a day of baseball at Marlins Park or a Miami Heat showdown at American Airlines Arena. The arena also hosts some of the most elite concerts. At any of these events, however, the only item that may prove more highly coveted than the tickets to attend is a space to park. Driving your own vehicle to the event usually involves paying as much as $50 to park in a remote location and undertaking a parade like trek to and from the stadium or arena.
In contrast, our limo service can provide curbside drop-off and pickup service for you and all your guests. You can roll up to the stadium, enjoy the event in the company box and then simply roll away again with full VIP treatment. Best of all, the party won't lose steam or have to end.
Plan Ahead, Stay Ahead
If 7 seconds can make a favorable first impression, a day or evening of well-planned and executed activities complete with flawless services can solidify it. All Points Limousine's specialists are committed to making your business event a success with our limousines, SUVs, vans and minibuses customized to suit any need. For your next outing, event or special occasion in South Florida, contact us, and let our expert planners coordinate your transportation needs for you. Then, kick back, and focus on what really matters.
Facebook
All Points Limousine knows that first impressions mean everything in the business world. More and more, prestigious corporations are depending on our limos, SUVs, vans and minibuses to provide custom transportation services for road shows, sales trips, company-sponsored speakers, airport drop-offs and pickups, company photo shoots, meetings and events, nights out, sporting events and concerts. If you're planning a business outing, event or special occasion in the Miami Fort Lauderdale or Palm Beach area, contact us, and let our expert planners coordinate your transportation needs for a flawless first and lasting impression.